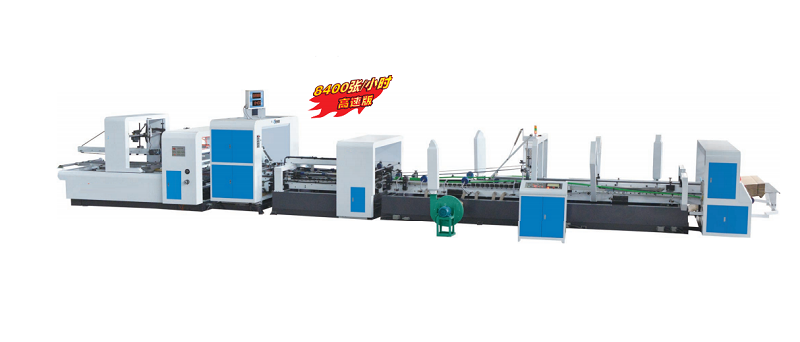 LZHD-2800 Automatic Folder Gluer and Nailer Machine
Main Characteristics
A.Suitable for corrugated board A, B, C, AB, three, five-layers cardboard.
B.The characteristic of this machine is all computer control, easy to operate, stable quality, the speed can achieve economic benefit, greatly saving manpower.
C.One machine has three functions with nailing, gluing and above all gluing later nailing.
D.The output of paper folding, deviation correction, nailing, gluing and counting stacking can be completed automatically.
E.A box without a bottom but with a cover can also be nailed.
F.This machine adopts the computer touch screen display operation and fault instructions.
G.Can store order, can remember 50 sets of order data.
H.It can complete the change order setting within 3-5 minutes and can be mass produced.
I.The paper feeding unit adopts vacuum belt to deliver the paper accurately and not askew.
J.The effect of nailing is better, nailing distance is more accurate, the appearance is more beautiful.
K.The glued cartons have the features of firm, smooth and clean.
L.The head and the patting and ordering unit are operated by servo motor with stable and accurate nailing distance.
M.Nail head additional ordering function, and the finished product will not produce the scissors type forming, ensure neat. Accuracy up to ±2 mm.
N. After folding the cartons, head and tail can be nailed.
O. Gluing evenly and do not glue out, easy to dry and clean.
P.Nail spacing: 40-500mm.
Q.Nailing speed: 1050 nailing/min
R.The speed can reach up 110 pieces with three nails as an example.
S.Nailing Angle: 45 °.
T.Single and double nails can be adjusted freely, applicable to national standards 17 and 18.
U.Reduce manpower dependence, replace manual gluing and nailing operation.
V.Less manpower, fast speed, 2 people for paper feeding, 2 people for bundling, 2 people for back and forth transport, 8 hours reach more than 100,000 pieces easily.
W.Suitable for export packaging, environmental protection packaging,such as beverage box, beer box, instant noodle box, ceramic tile box and other high-level packaging boxes.
Main Specifications
Max sheet: 900×2600
Total fixed current:25A
Min Sheet: 300×850
Power supply: three-phase four-wire distribution (three-phase 380V+ 0)
Delivery Speed: 0-130m/min
Overall Size(Length× width× height):
16500×3000×1800mm
Total Power:21.1kw
Net Weight: 11t